Schedule and Subscription Manager
The Schedule and Subscription Manager in the Content system is a personalized interface for users to manage their own schedules and subscriptions from across the platform in a singular toolset. The manager is designed to give the user a birds-eye view of:
All their various scheduled tasks that they have created for themselves in Publish and Model
All the items they have subscribed to in Discover, Present and Publish
All data alerts they have created in Discover and Present
Accessing the Manager
The manager can be found in the content management system, by clicking on the menu dots (green arrow) and choosing the last button in the pop-up list.
Once opened, the user will see 4 tabs for each of the scheduled items types (red box).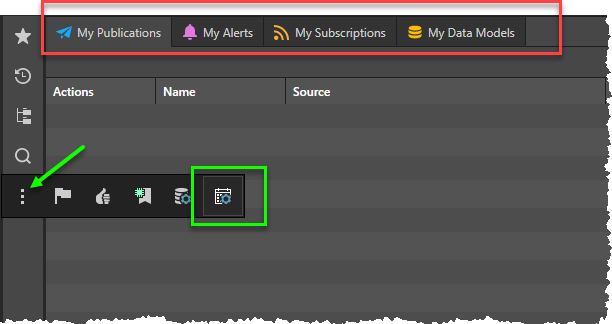 In each tab, the user will see similar content:
Actions: there are 4 actions per item Stop, Start, Edit and Delete
Name: the name of the schedule or subscription
Type: the source of the scheduled item (Discover, Present, Model, Publish)
Source: the name of the source file that the schedule or subscription is based on. Click the item to jump to its location in the content explorer
Description: any description attached to the schedule
Start Date: the first time the schedule or subscription was run
End Date: the final time the schedule or subscription was run
Editing Subscriptions
Click the pencil icon beside any subscription to edit it.
NOTE: When editing a subscription, a toggle button (highlighted) allows you to switch between basic and advanced settings: