Multi Chart Title
The Multi Chart Title can be enabled when trellising Cartesian, segment, or advanced charts. It is useful as it allows users to show the relevant title for each chart, adding more context for consumers of the report, and helping them to easily understand what each chart is showing.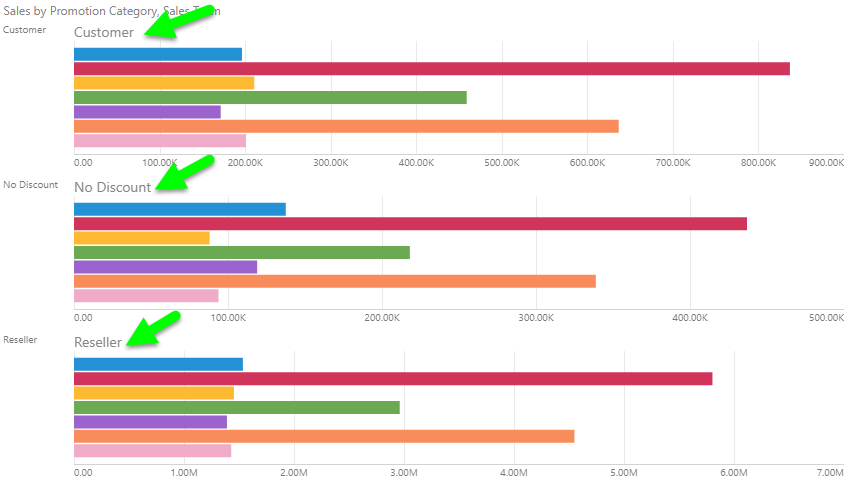 Add and Format Multi Chart Titles
To add a multi chart title to your trellised chart, open the Formatting panel and choose Multi Chart Title from the top drop-down list. Click the corresponding check box to display the titles in the report (green arrow below).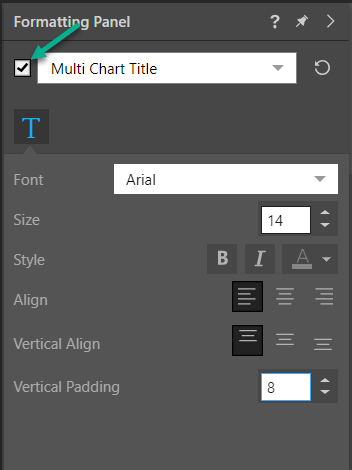 You can make the following formatting changes:
Font: change the font type.
Size: change the font size.
Style: change the font style (bold, italics, or color).
Align: align the trellis axis label to the top, middle, or bottom of the trellis axis.
Vertical Align: align the titles vertically to the top, middle, or bottom of the title area.
Vertical Padding: add vertical padding around the titles to make it appear more prominent.