Model Scheduling
The data model must be reprocessed regularly to ensure that it is updated with new data from the data source. This can be done manually, by opening the model definition file and processing the model, or on a scheduled basis.
Model processing schedules are used to auto-run the processing of data flows and data models. The data flows and models in the model definition file will then be processed automatically according to the schedule that was created. This scheduled processing can be set up from Model or from the Content Explorer.
Click here to learn more about model processing.
Click here to learn about scheduling model processing from the Content Explorer.
Important: This feature is not available in the Community Edition.
Set Model Scheduling
To create a model schedule, click the Schedule button from the Data Flow, Data Model, or Security ribbon (this button is only enabled once the model file has been saved):

The Schedule panel will appear on the right of the interface. You can select:
New Schedule: configure a new schedule for the current model.
Go to schedule listing: go to the schedule listing for the current model in the content manager.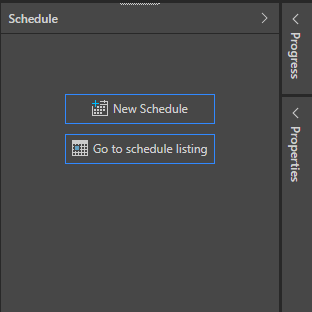 New Schedule
When creating a new schedule, you need to configure the Job Details and the Schedule.
Job Details
Name: the default schedule name is the model name and the schedule creation date and time. You can change the name as required.
Description: add an optional description.
ETL Execution Part: execute the entire Master Flow (including data flow and models), or the execute the models only.
Override Security: override metadata security set from the Admin console or the Materialized Manager. Disable if metadata security should not be affected by processing the data model. Click here to learn more.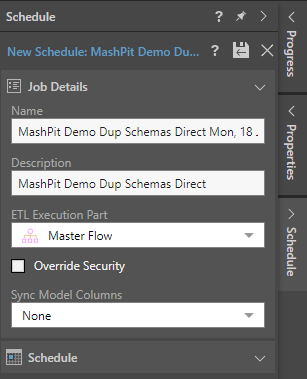 Schedule
Under Schedule, set the schedule to 'Once' or 'Recurring'. If you create a one-off schedule, then choose whether to run the job immediately ('now') or at a later date or time ('Delayed'). Lastly, set the time zone.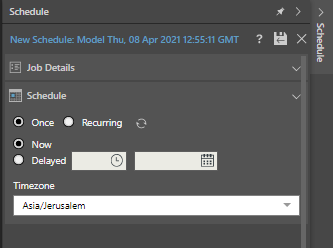 If you create a recurring schedule, then choose the frequency of the job (hourly, daily, weekly, or monthly). Next, enter the start date and time (you can also enter an end date and time if relevant).
Finally, choose the time zone.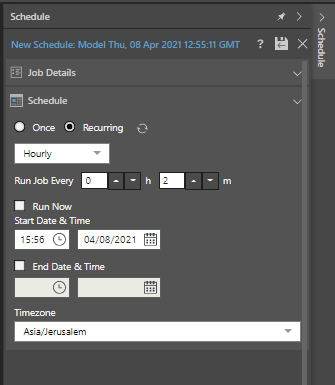 Save and Run the Schedule
To save and run the new schedule, click the Save & Run button (red highlight below):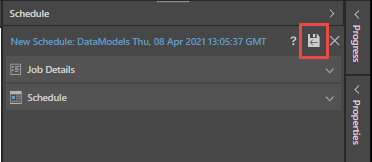 If saved successfully, you'll see a confirmation message: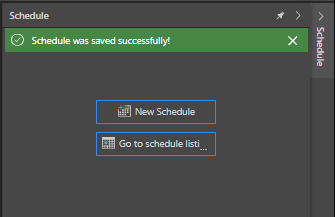 Edit a Scheduled Job
To edit a scheduled job, open the Schedules panel from the model's Actions Panel in the Content Explorer, and under actions select Stop, Start, Edit, or Delete.

You can also click on a schedule that was run to view its Job Executions.
Click here to learn more about managing the schedule.