Run Slide Show
The Slide Show function lets users launch a slide show of all the Discover items in a folder in a the "light viewer" mode. This is similar to the "Slide Show" option in the App Tab Home Menu.
The Slide Show only uses Discover items in the root of the selected folder. Any items stored in sub-folders are ignored.
While in the slide show, the content remains fully interactive and all queries are run against their data sources, live. This includes accessing the right-click context menus and all their associated functionality. However, users cannot save any changes.
Launching the Slide Show
To run the slide show, use the right-click context menu of the relevant folder and choose "Run Slide Show". This can be done from either a folder in the folder tree or a folder item in the item listing of the content explorer.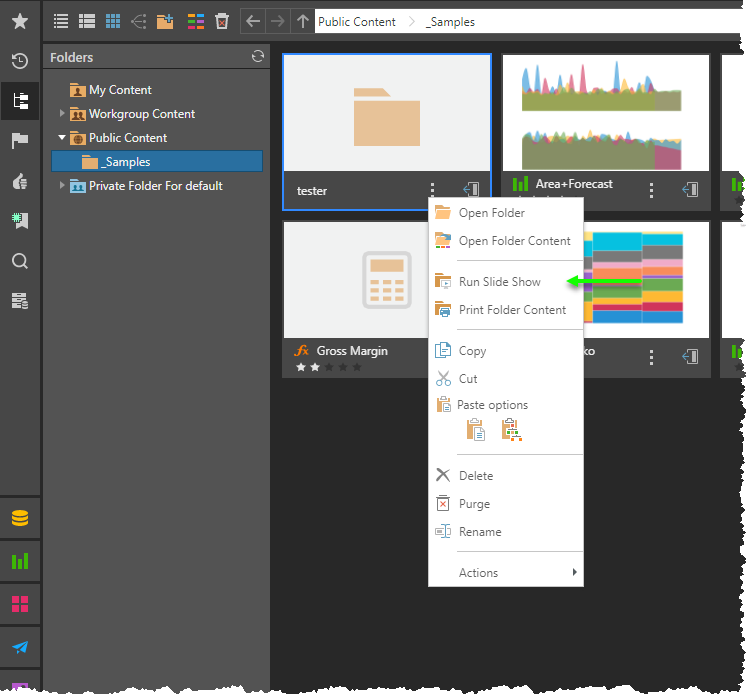 In slide show mode, the light viewer ribbon is presented at the top of the screen, allowing users to:
Print, undo or redo via the fly-out menu (red arrow below)
Open the workflows and conversations panel (green arrow below), to see or add new workflow events, comments and annotations to the content
Cycle between the different reports sequentially (purple box below)
Close the slide show down and return to the content manager (blue arrow below).