SAP BW Technical Names
By default the Dimensions panel displays the caption of the SAP BW objects in the data source. Its also possible to switch member elements to captions based on one of the hierarchy's hidden properties.
However, you may want to locate the required queries or views based on their technical names. In this case, you can change easily change the captions to display technical names. Doing so will display the technical names for dimensions, hierarchies, and measures; the technical names will be displayed in the hierarchy and measures trees, in the drop zones, and in the query.
How to Display Technical Names
Click the Change Caption icon at the top of the Dimensions panel:
Your views, hierarchies, and measures will be displayed n=by technical name. To revert back to captions, click the Change Caption icon again.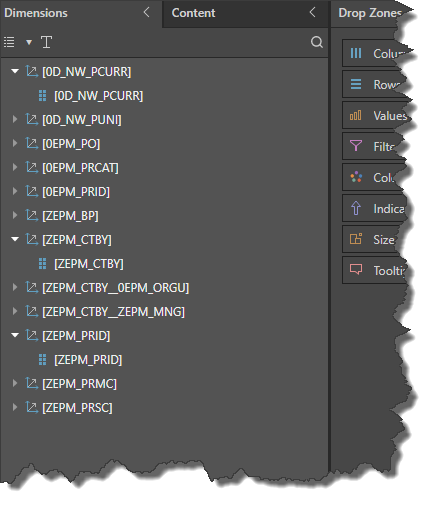 Example
In this example, technical names were enabled. We see that the technical names are displayed not only in the Dimensions and Measures panels, but also in the drop zones, and in the visualization.