Order by Selection
Returns a list of elements sorted in the order in which they were selected from the Select Elements panel.
Syntax & Usage
Order([List], CUSTOM)
Create the required list, making sure to select the member elements in the order you want them to appear in the list.
Connect the Order by Selection block to the list block; the Order by Selection block does not require any configuration.
Example
In this example, a list is created by the ordered selection of elements from the Manufacturer hierarchy, as seen in the Result Preview and Syntax Preview:
{Order({[manufacturers].[Manufacturer].[Adihash],[manufacturers].[Manufacturer].[Old Balance],[manufacturers].[Manufacturer].[Acme],[manufacturers].[Manufacturer].[Esics],[manufacturers].[Manufacturer].[Over Armour],[manufacturers].[Manufacturer].[Slicenger],[manufacturers].[Manufacturer].[Ribuck]},CUSTOM)}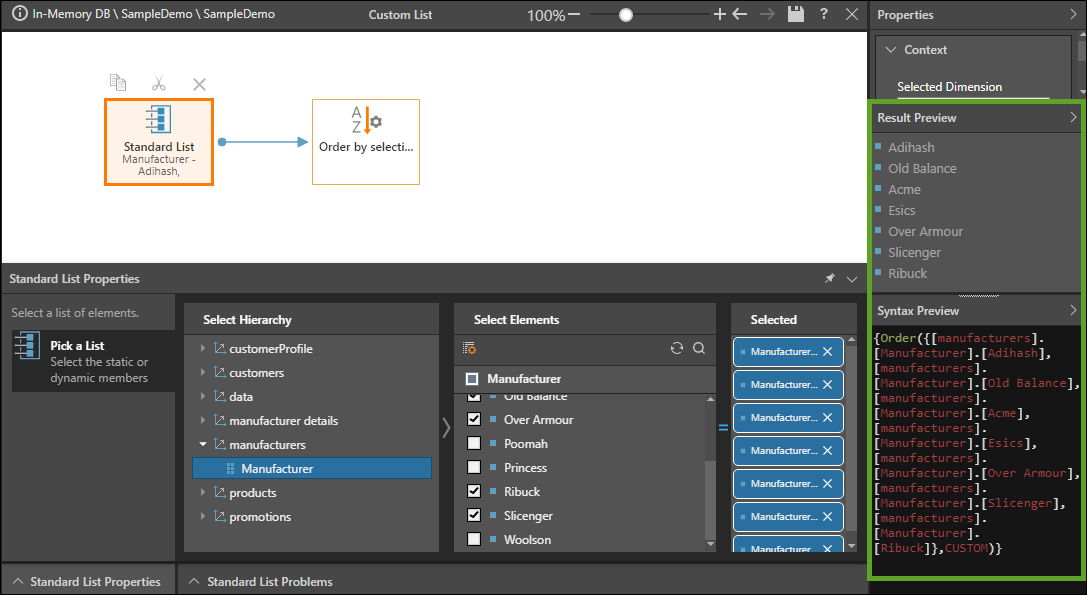 When the list is added to a query, the elements appear in the given selection order: