Exercise: Build a Publication
To add visuals, open the relevant folder from the left-hand Content panel. Drag the required visualizations onto the page. Once on the page, drag, drop, and resize the visuals as desired. To remove a visual from the page, click on it and select Delete from the Home ribbon. To edit a visual, right click and select Open in Data Discovery App.
To add an additional page to your publication, select New from the Home ribbon, or right click in the Preview panel and select Add Page. To copy an existing page, right click on it in the Preview panel and select Duplicate.
In this exercise, we'll build a new publication based on the content created in the Discover chapter. Launch Discover to get started, and then follow the steps below.
STEP 1
Open your My Content folder and drag the following visuals onto the page: Top Promotions in Q4 Grid, Product Sales Map, and Product Sales by Manufacturer Area Chart.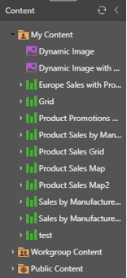 STEP 2
Find the manufacturers slicer in the Content panel and begin dragging it onto the page. Drop the slicer in the Interaction Manager when it appears, and select the checkboxes next to the grid and the map.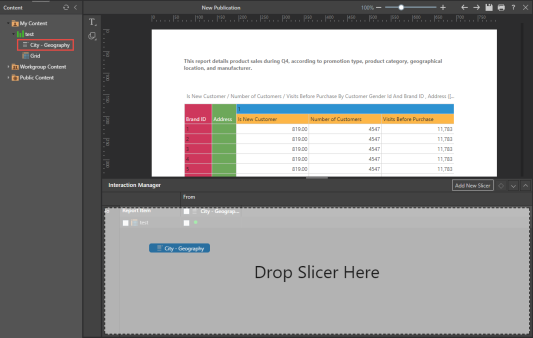 STEP 3
Drag the date slicer onto the Interaction Manager, and select the checkbox next to the slicer to apply it to all visuals. Then minimize the Interaction Manager.

STEP 4
Click the Text icon in the canvas panel to add a text box to the page. In the text box, type the following:
"This report details product sales during Q4, according to promotion type, product category, geographical location, and manufacturer."
STEP 5
Resize your text box and position it at the top of the page. From the Home ribbon, bold your text.

STEP 6
Select the save icon and save your publication as Sales Report Publication, Q4.