Tablet Presentations
Responsive Design
Pyramid's responsive presentation design ensures that presentations are always loaded in the format appropriate to the device used to access them, regardless of whether or not the presentation was optimized for that device type. For instance, a presentation that was built and optimized for tablets will be loaded in desktop format if it's opened on the desktop; a presentation built for desktop use will automatically open in tablet format when accessed from the tablet app.
However, it's always best to optimize your presentations for the required device types, to ensure that the content placement is suited to each format.
Optimize Presentations for Devices
Build presentations in Tablet mode to optimize them for tablet use, either from the desktop application or the tablet app. Do this by selecting Tablet from the New Presentation window. Alternatively, click the tablet icon above the presentation canvas (red arrow below). The Convert Layout dialog will open; choose the presentation that should be converted and click Convert.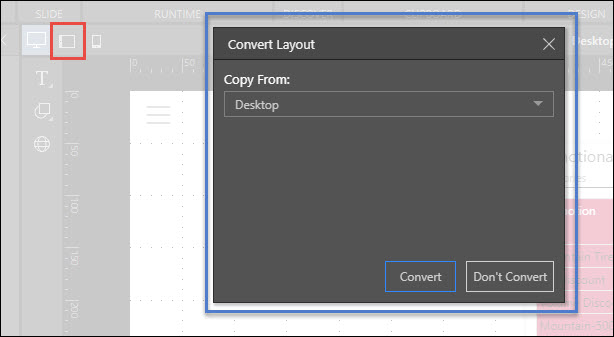 Optimize for Multiple Devices
Presentations can be optimized for multiple device types simply by converting the presentation. To create a presentation for desktop and tablet use, start by building your presentation in desktop mode, then convert from desktop to tablet. The content in the desktop presentation will be propagated to the tablet presentation.
After the presentation type has been converted, you can continue making changes in each format; any changes made in one format will not affect the other formats.
Save the presentation as usual.