Table of Contents
The table of contents is an automated feature that creates links to the publication pages using the given headings. The table of contents is automatically updated whenever:
A new page is added to or removed from the publication
The Headings are changed
The pages or headings are reordered
The Headings listed on the table of contents are hyperlinked to the corresponding pages.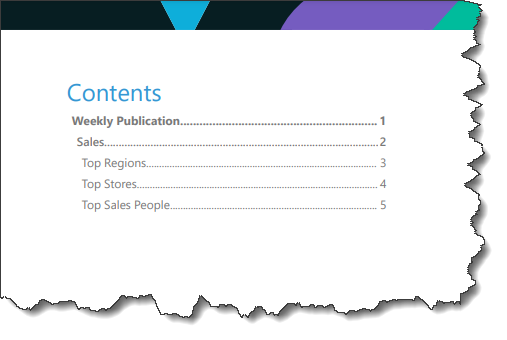 Creating a Table of Contents
To create a table of contents:
Select a page (usually the first one) and select Text Field.
Select Table of Contents from the Toolbox and select the area to place the table.




Note: In Publish Lite, the font attributes for the Table of Contents cannot be changed.


Draw the area where the Table of Contents is to be located. The placement can be adjusted when editing the page.
Adding new slides to the publication adds entries to the table of contents; users may have to resize the selected area.