Mobile Client
The Pyramid mobile app gives you the flexibility to access your data on the go. With the native mobile app optimized for both tablet and mobile/ cell use, it provides you access to your analytics wherever you go. The mobile clients work on both Android and iOS smart phones and tablets.
Download the App
The following steps are required to download and install the mobile app for Pyramid.
Search for the Pyramid application on Apple ITunes or Google Play Store searching for "Pyramid". Download the application and install it.
Note: Do not confuse the Pyramid app with the "BI Office" App.
Initial Mobile Log In
The first time the application starts up, you will be prompted to enter the following items:

The web URL address for your Pyramid installation
Your user name and password,

If you're using an Active Directory account, your user name should be in the format domain\username

Tap on the "Login" button to sign into the Pyramid application.
Facial Recognition
This feature is currently only supported on iPhones.
Facial recognition (FaceID) gives you the option to log into the mobile app without having to input a password. Before you can use this feature, it must first be configured in the Admin Console. See Mobile Devices Settings for further information.
Once FaceID is configured, when you log into the app on your iPhone for the first time, you are prompted to enable it. After that, you can choose whether to enable, or disable, FaceID from the side menu: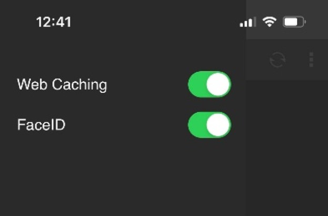 Once you have logged in, the first interface will be your "Recent Items" list. From here, you can navigate to other parts of the application to start browsing and using your analytic content.
Subsequent Log Ins
Depending on your organization's security policies, the next log in may change as follows:
No log-in: If allowed, your user name and password may be stored on the device (like your email), so you will not need to log in again.
Partial log-in: some organizations will allow you to store your user name only. As such, you will need to supply at least your password.
Full log-in: other organizations will not allow any credentials to be stored on the device. As such, you will need to provide both a user name and password.
Facial Recognition Login (FaceID)
This feature is currently only supported on iPhones.
After you enable FaceID on your phone, it displays as an option on the login page. Click the icon to proceed with FaceID: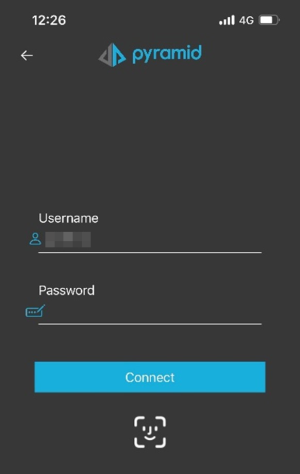 Mobile Administration
Please refer to the Mobile App Administration guide for information about deployment considerations, mobile administrative setup, the mobile login process (including two factor authentication and blocking lost devices), and the mobile security flow.
For details about mobile device settings in the Admin console, click here.