Build Smart Discoveries
The streamlined interface and functionality in Smart Discover makes building visualizations a simply and fast process:
Select a measure from the Values panel. Once a single measure is selected, it will be displayed in a visualization.
Select a hierarchy from the Dimensions panel to display qualitative data in the visualization.
From this point, you can easily define the query further, by adding more measures and/ or hierarchies. You can also change the visualization as required.
Advanced Selections
Hierarchy Selections
While you may want to add an entire hierarchy to your visual, you may rather add only some of the elements contained in the hierarchy. In this case, you can create a custom selection.
Another alternative to adding an entire hierarchy is to filter the hierarchy by a given value; elements in the hierarchy that don't meet the selected criteria will be filtered out of the visual. This allows you to add, for instance, the top 25% of products, rather than every product sold.
You can also organize your visualizations by sorting the hierarchy; this allows you to define in which way the hierarchy's elements should be displayed. For instance, should they be displayed in alphabetical order? Or should they be organized in order for value, from highest to lowest?
Using custom selections, and sorting and filtering hierarchies, you can tailor your visualization to display the exact information that you're looking for.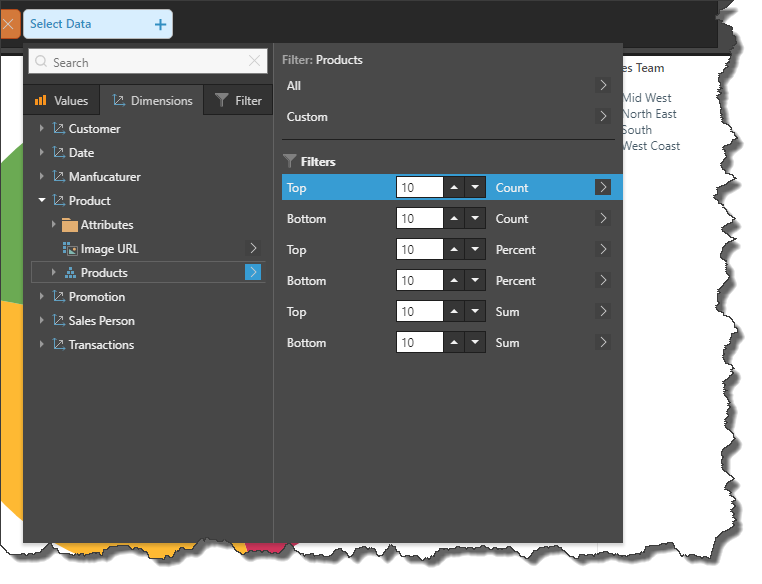 Data Filters
You can select additional hierarchies to use as data filters in the visualization; data filters produce a slicer, which displays the hierarchy's elements. Selecting an element from the slicer will filter the visualization by the selection, on the fly.
Date Selections
Leverage the date selection options to add time periods to the visualization, without making complex selections.