Publish Lite Pages
Publications are constructed from a series of pages; add and remove pages as needed, and select page from the Pages panel to edit it.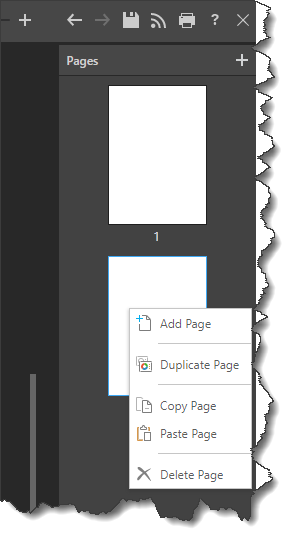 Add Pages
Publication pages can be added from both the ribbon and from the Pages panel.
From the ribbon, click New to add a new page to the end of the sequence of pages. You can rearrange the page order by dragging and dropping slides in the required order in the Preview panel.
To manage pages directly from the Pages panel, right click on a page to:
Add a new page (the new page is added immediately after the currently selected page, meaning you can insert a new page anywhere in the page sequence).
Duplicate the selected page
Copy the page
Paste a copied page
Delete the page
Right click on the Preview panel background to add or paste a page.
Copy and Paste Pages
Right click on a page to copy it. The copied slide may then be pasted in the same publication, or in another publication.