Content Manager
The content manager is the main toolset for working with content in the Pro client. You can access this manager from various points in the application.
Viewers are given access to a light version of the content management tools. They are primarily centered around finding and exploring the content items available to users. The different views are designed to make this functionality easy and uncomplicated.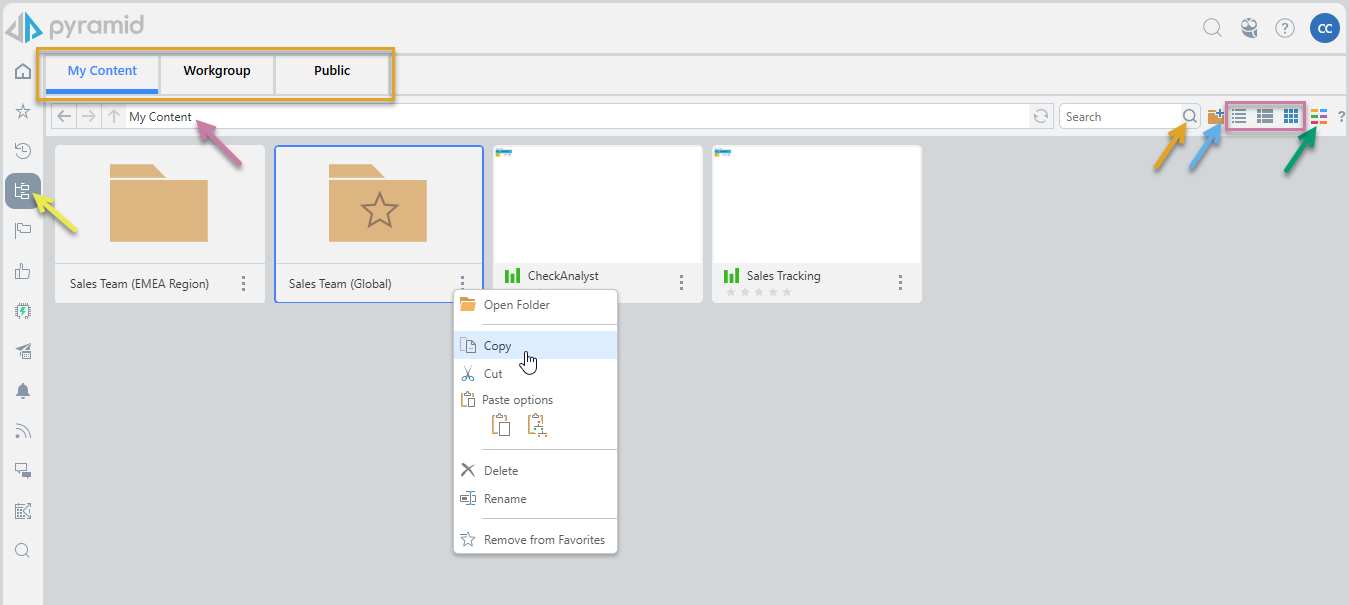 Content Manager Workspace
When the user enters the content manager space (green arrow), they are presented with the following elements.
Views
Within the content manager, users can click on the various views (red box above) to find relevant content easily. The views include:
Favorites - this is a listing of all items that the user has flagged as their favorites.
Recent - this is a listing of the 20 recently opened or used.
Explorer - this is the master content view, offering a folder / item interface, that allows users to organize and manage their content.
Top Navigation Bar
The top navigation bar, which can be seen in various forms across most content views, it is comprised of 3 sections in the explorer view: View switches (red box above); Folder navigation bar (yellow box above); and quick search (blue box above).
Switches
Item Display
Details View: The detail list shows a grid-like display of content items with various details.
Content View: This is similar to the detail list but shows small thumbnails of the items.
Tiles View: This shows all the content items with large tiles and thumbnails.
Other Functions
Content Type Filter: This button lets the user filter the types of items in a given view that will be shown in the list.
Content Context Menu
Data discoveries and presentations display a context menu that exposes the following functions:
View: open the content item for viewing and interaction.
Go to Item Location: go to the item's location in the Content Explorer.
Add to Favorites: add the item to your favorites list.
Remove form Favorites: remove the item from your favorites list.
Rate Item: apply a rating out of 5.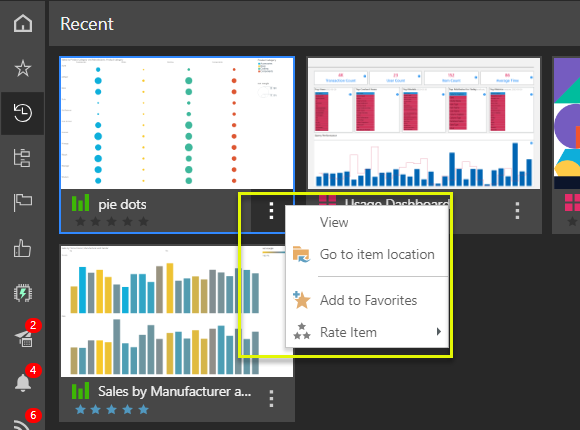 Folders also display a context menu, with the following options:
Open Folder: open the folder. This is equivalent to a single click on the thumbnail.
Add to Favorites: add the folder and its contents to your favorites list.
Remove from Favorites: remove the folder and its contents from your favorites list.